This is a concept of a personal smart device that can be used continuously. It allows to have free hands and free pockets. The device is securely attached to the body, and its loss is immediately detected.

The communicator with a screen on the neck is perceived as jewelry, it looks like a badge or an avatar in the offline world.

The neck is the best place to wear a microphone, speakers, camera, antennas, activity and emission sensors. This device is designed to recognize and translate verbal signals, gestures, touches and graphic symbols.

Tactile display allows you to instantly transmit signals without distracting hearing and vision functions. It provides a special way to stimulate emotions.

Our first step in this project is the eight channel tactile display.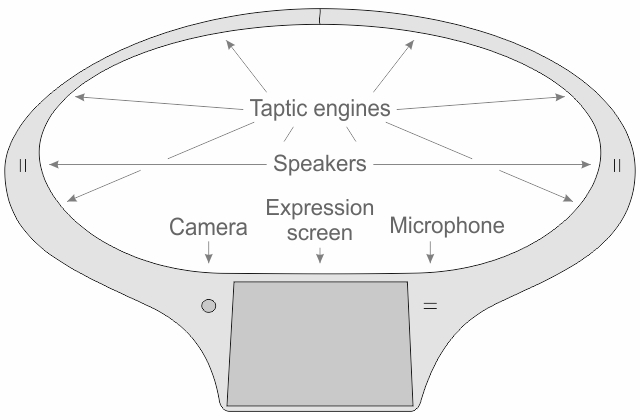 Catch phrases: Wearable communicator, Smart necklace, Tactile display, Smart wearables, Intellectual jewelry, Emotional stimulant, Intimate gift, Status attribute, Vibro music, Vibro subtitles, Vibro telemetry, Tactile data transmission, Tactile subtitles, Remote touch, Communication tool, Translation of emotions, Computer games, Data translation for the blind or deaf, Subconscious analysis of data, Prompter, Massager, Video recorder, Voice recorder, Navigator, Breathing and heartbeat monitoring, emotional measurement, Alarm for lucid dreaming, Snoring alarm, Warning interface, Self-expression tool, Off-line Avatar, Extension of personal identity, Fitness tracking functionality, Conditional signs for others, Attracting attention, Connection to a smart house, Remote guard for fishing, Remote monitoring of baby activity, Synchronization of rhythms of the brain, Changing the emotional state.


> Script for a commercial